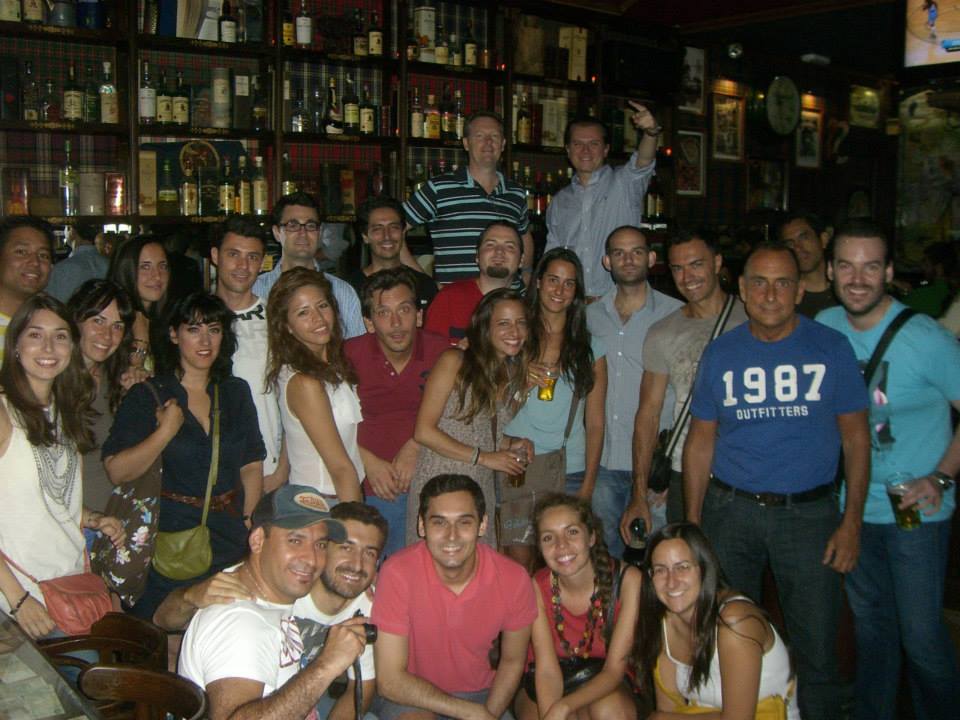 Multilinkual is a community of international people passionate for languages or just for multicultural friendship.
The first group was originated in Madrid, but this idea could be created in New York, Rio de Janeiro, Lagos or Beijing, as all over the world there are many people whom are sociable, friendly, and share the same interest in languages and international friendships. Currently, you will find that the most active group is in the capital of Spain, but we encourage you to post your local events and to find people in your town. You will see that there are many more international people near you than you thought and soon you will get results that will surprise you!

You can use Multilinkual as often as you'd like to contact people in your town or find penpals from all over the world.

A typical Multilinkual event could be a language exchange meeting (intercambio de idiomas) in different places, for example, a cafeteria or an Irish pub in your area where you will meet international people and practise languages for free with native speakers. You can also plan activites, for instance an evening at the movies, an Indian dinner, a weekend fieldtrip or a picnic in the park. You will see how quickly people find the events and the meetups become bigger and bigger with more participants.

International Multilinking is much more than just socializing. International people such as yourself often need to find a language teacher, a place to stay when travelling to other countries, some help in a new town, finding a flat or a flatmate, meeting other expats, or just finding new friends to share a trip or similar hobbies.

This all can be easily found through Multilinkual! Do you want to find a family to become an aupair? You can use Multilnkual to find it. Everyone is more than welcome to join the big family of Multilinkual!

Are you in Madrid?
Make international friends at our language exchange group in Madrid and join also our trips, expat events, movie nights and other meet-ups.
We are a welcoming community of people interested in practising languages for FREE with native speakers in Madrid and all over the world. Join our language exchange group in Madrid and meet new people from all over the world: English, Americans, Germans, Italians, Russians, Brazilians, Japanese, Spanish...

In Madrid, we meet:
-Every Tuesday at El Parnasillo del Príncipe (Príncipe, 33, metro Antón Martín), starting at 10pm.
-Wednesdays fortnightly, International Dinners for 15€: Dinner Mexican, Thai, Italian, Indian, Chinese, Spanish...
-Every Thursday at Beer Station (cuesta de Santo Domingo, 22, metro Santo Domingo or Callao), starting at 10pm.
-Every Friday at Cine Ideal (Doctor Cortezo, 6) & El Parnasillo del Príncipe pub (Príncipe, 33, near the cinema): o.v. movies with reduced price for us, free drink with the movie ticket).
-Every Sunday at Beer Station, starting at 7pm.

FREE, of course (and we've got special prices at every event)!
Besides, Multilinkual put you in contact with experienced native language teachers to have conversation classes at the best price: Arabic, Chinese, English, French, German, Italian, Japanese, Portuguese, Spanish and Russian.
Are you able to speak a foreign language but feel you still need to improve? Practise and let native teachers detect and correct your mistakes in a nice and quiet venue. Come enjoy their 75 minutes* conversation classes in a small group environment for just 5€ (+drink purchase required).
*In the case of just one participant, 45 minutes.
*In the case of two or more participants, 1 hour.